The new Google Pixel 2 Launcher is simple in nature, but beautiful in look with its bottom search box, At A Glance widget and new wallpapers. Pixel 2 Launcher APK is already available for download which you can sideload on any device, but to get some features need to install it as a system app. For example, Google feed, circle icon on Nexus phone, etc.
Thanks to XDA's paphonb user, the ported Pixel 2 Launcher bring Google Feed, circle icon support on Nexus device, alongside all new Pixel 2 Launcher features like bottom search box, At A Glance widget, etc. The ported launcher does not require root on the device to work.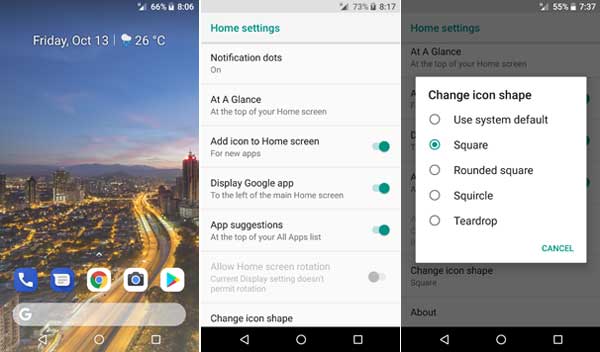 The developer paphonb has updated the launcher APK with various fixes and the latest version (current version 1.5) seems to be pretty stable. To get all the features, your device should be runs on Android 7.0 Nougat or Android 8.0 Oreo, but it should also works on Android Lollipop and up with limited features.
Features of ported Pixel 2 Launcher:
– Enable Google Now and weather without installing as a system app
– Enable notification badges for Android 7.0
– Add pull down to open notifications drawer
– Fix blue folders on Xperia devices
– Change accent color to Pixel blue
– Add circle icon shape for Nexus on stock Android 8.0
Note that, to install the ported Pixel 2 launcher (Rootless launcher), you should uninstall the previous Pixel Launcher from your phone, if installed.
Ported Pixel 2 Launcher APK can be downloaded from development page [HERE] and sideload on your device. After installation, set it as your default launcher. (Source – XDA)