Facebook app for Android is known for consuming massive amount of mobile data and battery power. Switching to Facebook Lite app and to Facebook web version will solve this issue a little. However, if you are looking for even a better way to cut down your data usage while using Facebook, latest version of Opera's data saving app Opera Max will help you. Opera Max version 3.0 can save data on Facebook. Here is how to use it.
If you use Facebook most often and your monthly mobile data plan exceeds, Opera Max 3.0 could be the best way to save your valuable data. Available free on Play Store, Opera Max's new 'Savings for Facebook' feature considerably will reduce both mobile data usage and battery power. You only need to just switch to web version of Facebook built into Opera Max.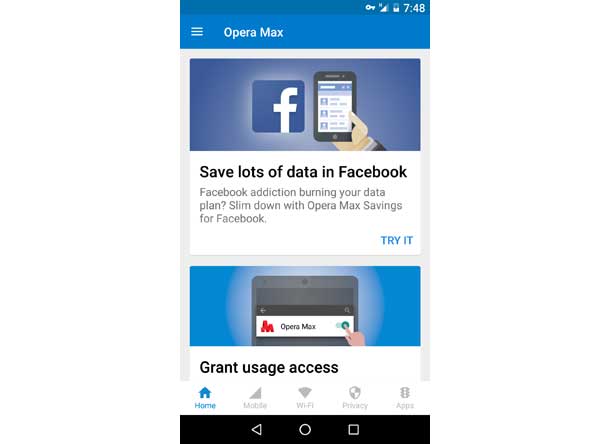 Note that Opera Max has also various other functions. For example, it optimizes data usage in apps like Chrome, YouTube, Netflix, Instagram, etc. Also, it keeps a record of how much data it has saved you. You can even set to be notified when an app using a lot of data in the background, so you can block it.
Also, Opera Max provides greater security when connecting to public Wi-Fi networks by forwarding all traffic through its servers.
How to use Opera Max to save data on Facebook
1. Download and install Opera Max from Play store [HERE], and then activate it.
2. Choose the option 'Save lots of data in Facebook'.
3. Sign in your Facebook account.
4. Opera Max will create a shortcut on your home screen. Just tap on it to launch Facebook whenever you need.