Microsoft's Fix It solution helps users easily fix various issues related to their computer's performance, safety and security. A most notable feature of Fix It solutions is that it lets users automatically diagnose and fix common Windows problems and security issues just with a click, which usually requires tweaking inner parts of the OS and Windows registry.
To use Microsoft Fix It solution, usually you need to visit an appropriate Fix It solution page and click on the 'Run Now' button to fix the issues. However, Microsoft has released a Portable Fix It solution suite that you can carry on a USB drive to fix various Windows problems on different PCs.
To download the Portable Fix It Solution Suite, just download the MicrosoftFixit-portable.exe (320KB) file (link below) and run it. After accepting the licensing agreements, choose a directory to save the downloaded (40MB) portable 'Fix It Troubleshooters Suite'. Once done, click Save and wait for the download to complete.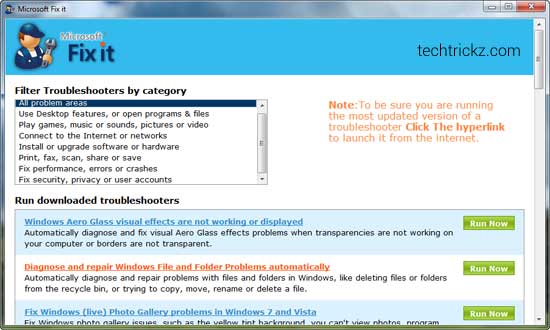 To use this tool, run the downloaded Portable Fix It Troubleshooters Suite and you will see that it currently contains following 26 Troubleshooters. Select desired one and click 'Run Now' button to fix the issue.
Fix power consumption problems and extend the laptop battery life
Fix Windows Media Player video, and other media or library issues
Diagnose and fix sound playback and audio problems automatically
Fix Internet Explorer add-on problems when IE hangs or freezes
Fix Internet Explorer issues to make IE fast, safe and stable
Diagnose and fix Windows Firewall service problems automatically
Fix security issues to protect and secure Windows automatically
Troubleshoot MSN client and connection
Fix broken desktop shortcuts and common system maintenance tasks
Fix Windows display problems that text on monitor is not readable
Windows Aero Glass visual effects are not working or displayed
Diagnose and repair Windows File and Folder Problems automatically
Fix Windows Live Photo Gallery problems in Windows 7 and Vista
Fix Windows Desktop Search when it crashes or not showing results
Fix problems with CD or DVD drives that can't read or write media
Playing video files crashes or freezes Internet Explorer – Windows
Hardware devices are not working or are not detected in Windows
Fix problems with programs that can't be installed or un-installed
FIX: You cannot send emails to Exchange Online users from Outlook
Fix Windows system performance problems on slow Windows computers
Diagnose and fix sound recording and audio problems automatically
Automatically fix Windows security settings to keep your PC safe
FIX: Zune, Zune HD players or Windows Phone 7 can't connect to PC
Diagnose and fix printer and printing problems automatically
Diagnose and fix Windows USB problems automatically
Fix the problem with Microsoft Windows Update that is not working.
Portable Fix It Troubleshooters Suite can be quite useful in certain situations. For example, you can carry it on a pen drive to fix various issues on computers that has no internet access. (Via)
Download Microsoft Fix It portable tool