Microsoft Arrow Launcher for Android has updated to version 3.7 with new features and bug fixes. The features included in this update (v 3.7.0.35013) will further simplify user experience. Choose between various actions for contacts on the People card, better system to avoid duplicates, improved local search, cleaner look for settings page, etc. are some of the notable changes in Arrow Launcher version 3.7.
Microsoft's Arrow Launcher is one of the best homescreen replacement apps for Android. It looks pretty cool, simple and handy for those who want things done fast. Also, the integration of Bing search, Wunderlist and Microsoft Office helps you keep organized and brings better experience to users.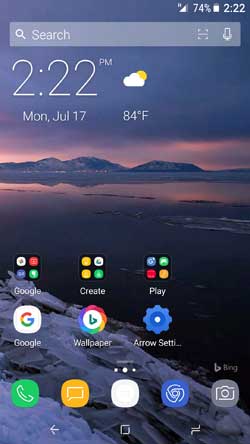 What's new in Arrow launcher 3.7?
– Choose between multiple actions for contacts on the People card.
– Fix for duplicate contacts
– Enable reorder local search results in Search.
– The Settings page is now re-organized for a cleaner look and feel.
– New customers can sign in with a Microsoft Account in setup experience.
– Bug fixes on Status bar, Calendar, Search, Tablet, Hidden apps and Auto update
For your information, Arrow Launcher is a memory and battery friendly launcher. It will not eat up your battery power and memory more. Generally, Microsoft Arrow Launcher is pretty simple, good and user friendly.
Interested users can download Arrow Launcher from the Google Play Store.