HTC has released a new app called Boost+ on Play store, which automatically boost your phone's performance and battery life by cleaning the cache and removing unused apps from the memory. The app will also help you remove clutters, optimizes phone's performance and as regains storage spaces – all just with a few taps.
HTC Boost+ app supports both HTC devices and non-HTC devices running on Android Lollipop and later. For non-HTC devices the status of the app is Beta, so you may run into some issues while using it on your Android phone. Apps like HTC Boost+ are available in abundance at Play store, but many of them are comes with in app ads. HTC's Boost+ app has also belongs to the same category (ad supported), but works as intended.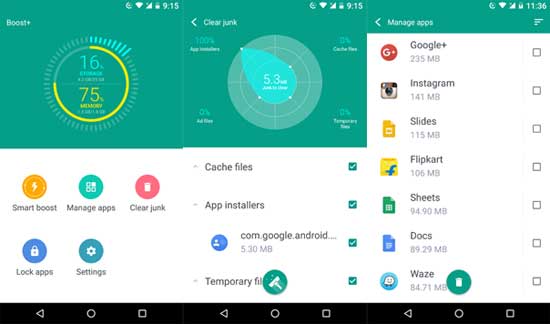 'Smart Boost' is one of the interesting features of this app. Once enabled, it automatically free up memory in the background to speed up your phone's performance that will also save battery power.
Boost+ clears junk files (cache files, installers, temporary files and advertising clutter) to regain storage spaces and improve working of the phone. Just tap on the 'Clear junk' button to perform the action.
The 'Manage apps' section lets you uninstall unused apps from your phone. It will also enhance your phone's performance. Lock apps is another option that lets you password protect any app that contain your private data.
You can download HTC Boost+ from Play store here.