From mid-range to high-end ones, fingerprint scanner becoming a common feature on all Android phones now. The main advantages of fingerprint lock are it is fast, safe and convenient than the PIN, pattern and password lock. You can use Fingerprint scanner much more than just unlocking your phone. For example, you can use it to lock and unlock your personal apps, but not all smartphones have built-in option to lock apps.
In this guide, we show you how to use fingerprint scanner on OnePlus 3 and LeEco Le 2 to lock your personal apps. These two are the most recent devices, but they do not have built-in feature to lock apps, but still you can use the fingerprint scanner to lock apps and settings on these devices. Read on to know how it is.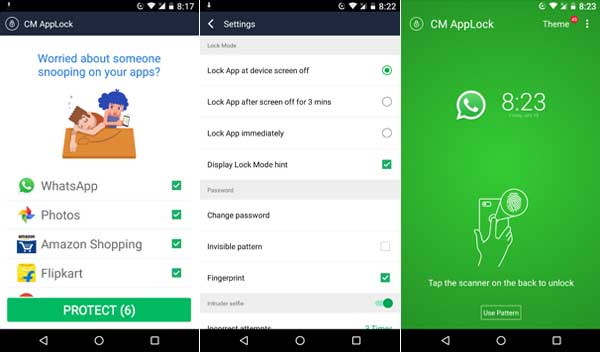 To lock apps on OnePlus 3 and Le 2, you need to install "AppLock – Fingerprint Unlock" app. Created by Cheetah Mobile, AppLock is completely free (no ads) and its simple UI lets you setting up the app easily. You can use it to lock and unlock apps like WhatsApp, Facebook, Play Store, etc. as well as Wi-Fi, Bluetooth, etc.
The "CM AppLock" works on most phones running on Android 4.0 and above. The big advantage of this app is that you do not need to use the complicated pattern or password to lock and unlock your personal apps. It provides a simple authentication method by fingerprint.
How to use CM AppLock to protect Apps
1. Download the CM AppLock app from Play store [HERE] and install it.
2. Run the app, select apps that you need to protect using fingerprint and tap on 'Protect'.
3. On the next screen, set a new password (pattern). That's it.
4. Now open the CM AppLock app, tap the 'gear' icon (settings) and look Fingerprint is enabled.
5. In the settings menu you can alter various other settings. Each setting is simple and self-explanatory.
To unlock the app you locked with CM AppLock, just use your finger. It quickly recognizes the fingerprint and unlocks any app.
A disadvantage of this app is that it does not have a password protection to uninstall it. You can simply uninstall the app just like other apps, which means anyone can uninstall the app to access your locked apps.