Data Saver is a new feature in Android N that will help you stop exceeding monthly mobile data usage on your phone. In this tutorial, we show you how to get Android N Data Saver function on any Android phone without root. It is easy to exceed your monthly mobile data limit without knowing where it all goes. However, you can save mobile data usage by restricting background running apps' internet access and by blocking any app accessing internet when in mobile data.
Like in iOS, controlling mobile data usage is not easy in Android, but that will become an old story with the upcoming Android N. However, since Android N will not be available on all phones, you need to go for other methods to stop exceeding monthly mobile data usage. Read on to know how to get this function on your phone.
In Android N, Data Saver mode prevents apps sending and receiving data in the background (you can always whitelist any app if it needs to access internet), which will help you reduce data usage. You can get this feature on any device, if you install Opera's data saving app Opera Max. It is free, easy to use.
How to Stop Exceeding Monthly Mobile Data Usage on Android
1. Install Opera Max on your Android device [HERE]
2. Open the app, access the terms and conditions, and then connect to Opera Max cloud, when asking.
3. Now, tap the menu (3 horizontal bars) and then tap on 'App management'
4. Under the 'Background' tab, select any app to block it from using data in the background.
5. Also, under 'Mobile Access' tab, you can stop any app from using mobile internet.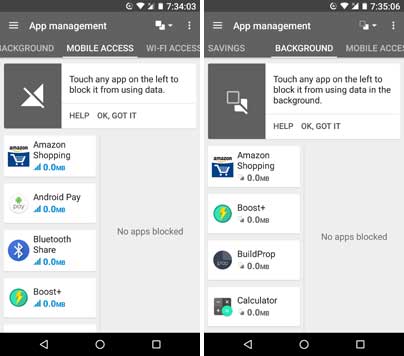 For your information, Facebook, Google Play Services, Instagram, BBM, Snapchat, Line, Spotify Music, Clean Master, Amazon Shopping, etc. are responsible for using the most data on an Android device.
Opera Max has also various other functions. For example, it optimizes data usage in apps like Chrome, YouTube, Netflix, Instagram, etc. Also, it keeps a record of how much data it has saved you. You can even set to be notified when an app using a lot of data in the background, so you can block it.