In this guide, we will explain how to add weather tile to Quick Settings menu on Android 7.0 Nougat. The Quick Settings menu in Android 7.0 Nougat is customizable. It lets you add, remove or arrange tiles and it even supports third party Quick settings tiles – no root access is required. For example, the 'Weather Quick Settings Tile', may be the first third party tile for Android Nougat, brings weather information right on the Quick setting menu bar.
If you would like to add weather tile to your Quick Settings menu on Android Nougat, here is how to do it with the 'Weather Quick Settings Tile' app. The advantage of doing so may be, as you can access the Quick Settings menu even from the lock screen, you can quickly view current weather condition and temperature.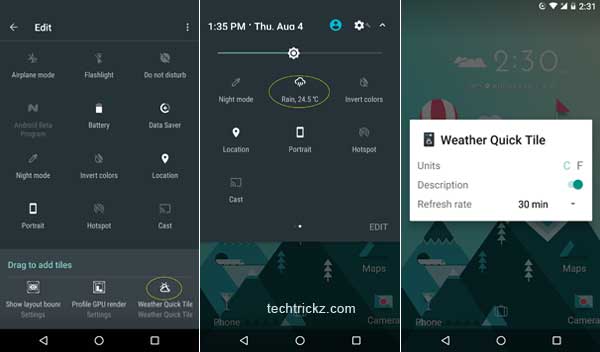 The Weather Quick Settings Tile app shows 14 different weather conditions with simple, clean white icons, while the text shows you the current temperature. The app supports only Android Nougat.
How to Add Weather tile to Quick Settings on Android Nougat
1. Download and install Weather Quick Settings Tile from Play Store [HERE]
2. It will add a weather tile to the Quick Settings menu list. To add it to menu list, just do as given below.
3. Swipe down the Quick Settings men and tap 'Edit'. From the available list, drag the weather tile to the quick settings menu list.
4. The Weather tile refreshes and asks permission. Once grant permission, it starts display weather information.
How to customize Weather Quick Settings Tile app
1. Just double tap on the Weather tile to access its Settings.
2. In settings, you can change temperature unit, weather update refresh rate and on/off description.
3. To get updated weather details, you only need to just tap on the weather tile. (Source – AP)