Finding an alternative launcher on the Play Store is not a difficult job. Too many free and paid launchers are available, but only a few offers valid reasons to continue use, for example, the Evie Launcher. The home screen replacement app Evie Launcher excels with version 2.0. It is simple, smarter, lightweight and free. This highly rated, customizable launcher will take the Android home screen to a new level. Check out what Evie Launcher offers you.
Evie Launcher has been updated to version 2.0 recently. The update primarily given importance to quality, but it also features universal search, grid and list style app drawer, removable icon labels, custom gestures, unread badges, dock with custom grid, redesigned folder and widget, as well as now it remind you of Google's Pixel launcher.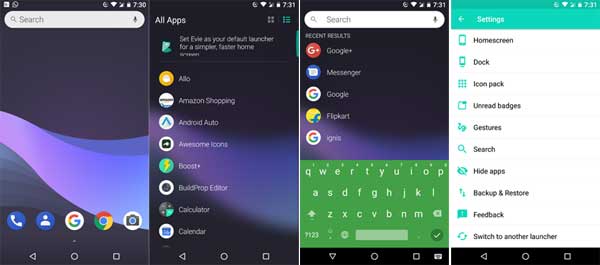 Basically, Evie launcher looks more similar to Google's Pixel launcher. It features a swipe up gesture, which open up the app drawer, and the app drawer supports both grid and list styling. Moreover, the swipe down gesture open up universal search, which lets you perform search locally or online.
There is no dock in this launcher (but you can enable it in the settings), which is a useful feature to minimize the content in the desktop. Basically, dock is superfluous, if you prefer a single-page-layout.
The beauty of Evie Launcher lies in its simplicity and openness. There are not many settings like the popular Nova or Action launcher. You can easily configure your launcher or export preferences from your current launcher.
Android comes equipped with its very own launcher that does a perfectly good job. However, those looking for a little more power and panache can employ the assistance of a third-party launcher app. I should say Evie Launcher is one of the best launcher for Android as it is fast, simple and intuitive.
Interested users can download Evie Launcher free from Play store here. Leave your views about this launcher in the comment section below.