Touch Assistant is a new function of Xiaomi's latest MIUI 8 custom ROM. If you are wondering how to get hands on with this feature right now on any of your Android phone, read on to know how to get it. Once enabled the 'touch assistant' feature, you will see a translucent circle on the right side of the screen. Just touching on it will display five more circles. Each circle represent shortcut for apps and system settings.
Today's tutorial let you know how to get Xiaomi's MIUI 8 Touch Assistant function on any Android phone. Note that MIUI 8's Touch Assistant is a replication of iOS Assistive Touch. This feature is designed to access your favorite apps and settings with easy and can be very useful for physically impaired users.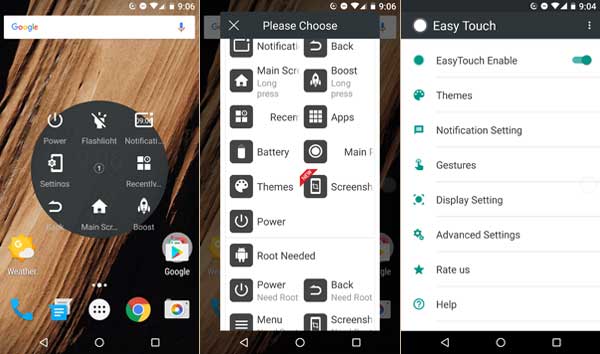 EasyTouch (classic version) brings MIUI 8 Touch Assistant like function on any phone. It is a free download on Play store and adds a floating button on the right of screen (like MIUI 8) and provides a very convenient way to access your phone settings, favorite apps, brightness, Bluetooth, Wi-Fi, GPS, Mobile Data, flashlight, Air-plane mode, etc.
How to configure EasyTouch app
EasyTouch can be downloaded from Play Store [HERE]. After installing the app, an icon floats on your phone's screen (floats on other apps and screen and you can move it to anywhere on the screen) and touching on it will bring the Easy Touch floating window, where you can access things.
Long touch on the floating window to add and remove app shortcuts and system settings.
From the settings menu, you can change button and floating window size and transparency, enable/disable Easy Touch, customize with themes, and access various other settings to make it your own.