Firefox 4.0 Final Released With Many Performance Step-Ups
Mozilla has officially released Firefox 4.0 RTM with many performance step-ups and features. With support for modern web technologies like HTML 5, CSS3, hardware acceleration, etc, now it is much faster than its previous versions with new JavaScript engine and memory usage improvement.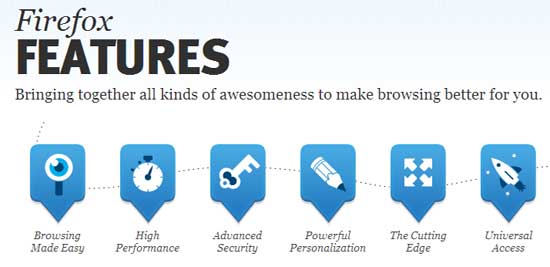 Following are common features of Firefox 4.0:
Now it supports latest web technologies like HTML5, CSS3, GPU Acceleration, SVG, WebM, WebGL graphic language, multi-touch, and privacy enhancement and brings your browsing experience to a new level.
The new, sleeker, updated interface lets you use your browser more conveniently. Moreover, new features like App Tabs and Panorama make it easier to browse the web.
Firefox Sync lets you synchronize your settings, passwords, bookmarks, history, open tabs, and other customizations across multiple devices (mobile and PC) so you can take Firefox with you wherever you go.
The new privacy feature 'Do Not Track' helps you keep your privacy online. It blocks advertisements that track your behavior online. You can read more about here.
Download Firefox 4.0 at Mozilla here.