CM Downloader is updated to version 2.5.1 with LineageOS support and it is now called Lineage Downloader. The app is designed to help users update their Android phone running on LineageOS to latest version easily and effortlessly. Also, Lineage Downloader introduces a more secure verification method for downloaded firmware zip file. It is now uses SHA256 control, which is more secure than the old MD5 method.
With Lineage Downloader, you do not need to download the full update file. It allows you to download only the delta file – only the difference between the current build you have on the phone and the next build (similar to CyanDelta Updater) – so you can save time and data usage. Full update files can also be downloaded with this app.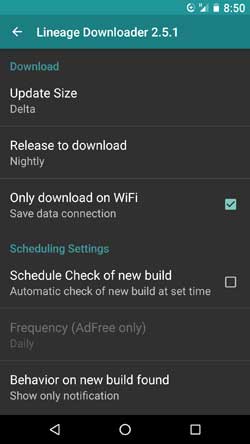 Lineage Downloader offers various features. Before downloading an update, you can see changelog of current, old and next builds. Also, the app allows you to rate and comment a particular build which helps other users to avoid bad builds.
With the app, you can download and flashes the LineageOS ROM automatically, backup your old OS. It will also downloads Gapps, auto delete old backups to save space, flash additional zips in batch with the ROM (kernel, Gapps etc.) and more.
If you are running on the LineageOS and would like to update it to latest version each week (LineageOS releases new nightly build every week with bug fixes and improvements), then the Lineage Downloader might be the best option.
You can download Lineage Downloader free version from Play store here and ad free prime version from Play store here.