To capture screenshot of an entire webpage (or part of a webpage) on Firefox, you need to depend on third-party add-ons, software tools, or online solutions. But, now with Firefox 16 that is an old story. Now you can capture the whole webpage (even long pages) using Firefox's built-in screenshot tool and save it as PNG image on your PC. Interested users read below to know how it is.
Firefox 16 comes bundled with lot of new features for both normal users and web developers. The new command line toolbar is one the most attractive features, which is designed to help users to make faster web development over Firefox developer tools.
With this Command line toolbar, you can access several features of Firefox 16, which doesn't have user interface. One among them is screen capture feature. Here is how it is.
Open Firefox, and go to Tools – Web developer – Developer toolbar (or click Shift+F2 keyboard shortcut to bring the Developer Toolbar). You will notice a new toolbar visible at the bottom of Firefox.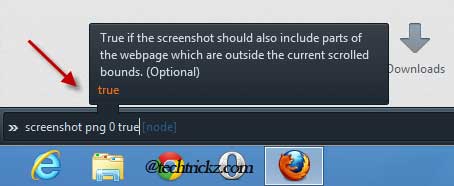 Now to capture entire webpage and save it as a PNG image, start typing "screenshot fullpage.png 0 true" (without quote) in the toolbar. Then press Enter. It'll save the image in your downloads directory.
To capture visible area of a webpage, type the command screenshot visible.png 0 false and press Enter. It'll save the image on your PC. That's it.
The above video will give you an idea on how to use Command line toolbar to capture webpage and save it as PNG image. [via]