Flash, Java and PDF are most insecure browser plug-ins. If you have no control over them, there are chances for malware infection via these plug-ins, especially when you surfing through shady websites. Chrome and Opera has built-in option called "Click to Play" to control such plug-ins and now Mozilla has announced that version 14 of Firefox (schedule to release in July) will have Click to Play feature to boost its security.
Firefox 14 will not allow plug-ins such as Flash, Java and PDFs to run without your permission. For example, when you visit a page with flash video, such as YouTube, the video won't play immediately, instead Firefox will display an icon telling you to "click here to activate plugins".
However, if you find this inconvenient on sites you visit frequently, you can change the settings to play or run content automatically. To add site-specific permissions, click on the plugin block in the location bar.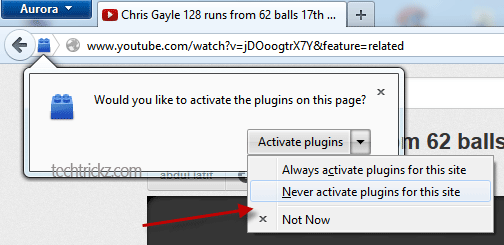 The doorhanger that appears contains a dropdown with 3 options to choose -Always activate plugins for this site, Never activate plugins for this site and Not Now. Choose desired one.
Click to Play feature will remain disabled by default in Firefox 14. You have to enable this feature from Firefox's "about:config" page. To enable, type about:config in the address bar and hit enter. Locate "Plugins click to play" and double click it to make its Boolean value true.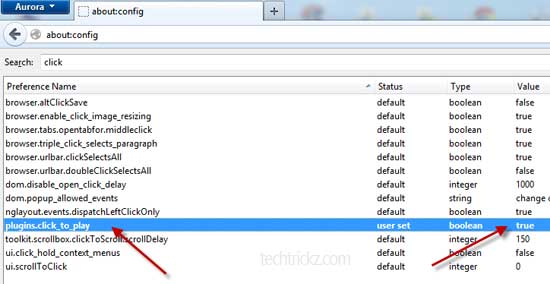 Negative side of Click to Play:
Activating plugins might become annoying if you have to do it frequently. In addition, "the click here…" message has a danger in it. Hackers can use this message to persuade you into clicking malicious link.
Added benefit of Click to Play:
Besides the security it offers, you can also utilize this feature to stop playing flash video (YouTube video) simultaneously when you open multiple video in different tabs.
Test version of Firefox 14 (Aurora) can be downloaded from Mozilla here