Automatically Post Your Google Calendar Events to Evernote (Chrome Extension)
Looking for a way to synchronize your Google Calendar events with your Evernote account? The Chrome extension called KanMeet helps you do it automatically.It  is designed to post your Google Calendar events to your Evernote notebook automatically.
This extension adds a "Post to Evernote" checkbox (which is enabled by default) to your Google Calendar event. As soon as you click, "Create Event," or, "Save" option, the event is sent to your Evernote notebook automatically.

After installing KanMeet, it adds an icon to Chrome's toolbar. Just click on this icon to sign in to your Evernote account, and choose your default notebook and other options for syncing.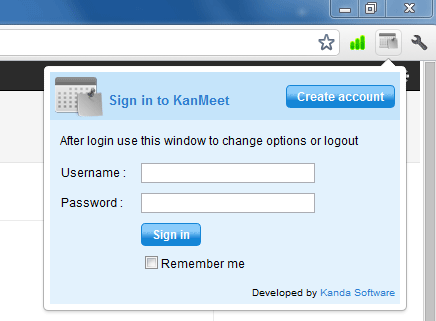 If you are new to Evernote, it is a web-based tool (free and paid) built to enable people to deposit almost any type of digital information and then organize it, categorize it and retrieve it when needed. You can type notes, record a voice memo, take a picture of a whiteboard during a meeting, or clip a web page and save it your Evernote account.
KanMeet requires Google Chrome 17 or above to work. You can install the extension from Chrome Web Store